Payment Vouchers
Note: "Payment Vouchers" were previously called "Incentive Codes"
"Payment Vouchers" allow Plexus Brand Ambassadors to give funds to potential and current Customers/Brand Ambassadors by creating the Payment Voucher through Plexus Pay.
Payment Vouchers are not to be confused with "Promotional Codes", which provide discounts on products at checkout, usually as part of a company sponsored promotion.
Rules for Using Payment Vouchers
The following important guidelines affect how Payment Vouchers can be used.
Payment Vouchers can be used:
Across currency (e.g. U.S. Customers can use Payment Vouchers given by Canadian Brand Ambassadors, and vice versa). When the recipient uses the Payment Voucher there will be a currency conversion that will take place based on that day's conversion rate. Example – US Ambassador sends a $ 10 USD to a Canadian Customer. The Canadian Customer applies the Payment Voucher on their order and see $13 CAD taken off the subtotal of their order. The conversion rate will change day to day based on that day's conversion rate.
For Retail Customer sign ups,
One-time use only per code, even if the full balance is not used,
For discretionary orders only, not subscriptions,
Only in a single transaction - if the total amount of the Voucher is not used, the remainder will be credited back to the sender's Plexus Pay account and will no longer be available to the recipient. The sender will see the refunded amount removed from the Balance on Hold in their Plexus Pay account.
With a promotional code in addition to the payment voucher in the same order (However, you are only able to do both from a computer as the payment voucher and promo code boxes are combined on mobile).
Payment Vouchers cannot be:
Used for monthly Subscription orders,
Used for enrollment fees (Annual Membership Fee),
Combined with other Plexus Pay funds as a split payment (Plexus Wallet option will be disabled when code is used),
Combined with PayPal and Venmo as a split payment, or
Used with another Payment Voucher on the same order (limit one Payment Voucher per order; an additional code would need to be added to a separate order).
Applying an Payment Voucher
If you received an payment voucher, you will receive a system-generated email notification. The email contains an payment voucher number to be used when placing an order. When placing an order on the website:
Step
Action
1.

Shop and checkout:

Login or create an account at www.plexusworldwide.com.
Shop for Plexus products.
Once the chosen products are in the cart, click on Checkout.

2.

Apply the Payment Voucher at checkout:

On the Payment section, look for the option for Enter Payment Voucher. (See screenshot below.)
Type the received Payment Voucher into this box.
Select Apply. The discount will automatically be calculated in the Order Summary.

If the Payment Voucher field is not appearing on the Checkout page: remove any Subscription items in the shopping cart and try again.

3.

Valid codes will display a message, and the Order Summary will be updated with the amount shown as a payment; Continue through Checkout and place the order.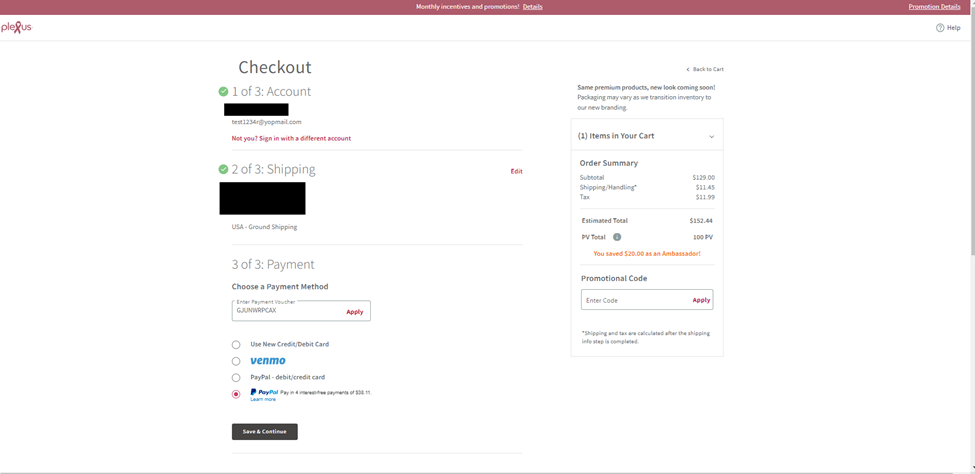 Invalid codes will display the "Invalid voucher code" message shown below.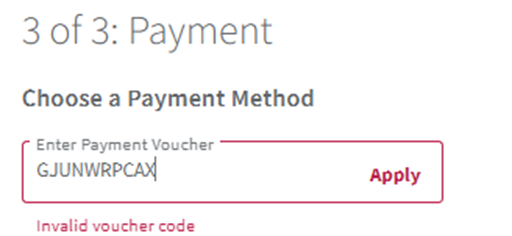 Gifting a Payment Voucher (Brand Ambassador)
As a Brand Ambassador, to give an Payment Voucher:
Step
Action
1.

Login to your Plexus Pay account and select Send Payment Voucher.

2.

Fill in appropriate information, including the amount, recipient's name, email address, and expiration date for the Payment Voucher.

The default expiration date is 30 days, but this can be customized for up to 6 months.
Enter a personal note (optional).

3.

Enter the URL for their own personal Plexus website.

This is necessary the first time the Brand Ambassador sends an Payment Voucher, and information will be stored for future transactions.

4.

Enter your Transaction Pin. Authorize the Transaction and Click Continue, confirm details of the Transaction and Click Continue.
Viewing Transaction History (Brand Ambassador)
As a Brand Ambassador gifting the Payment Vouchers, you can view the Transaction History for your Payment Vouchers:
Step
Action
1.
Login to your

Plexus Pay

account on your home page you will see a Transactions tab, a Processing tab, and a Voided tab.
Payment Vouchers that have been redeemed by the recipient on a purchase from Plexus will show up on the Transactions tab.
Payment Vouchers which are active but have not been used yet will show up on the Processing tab.
Payment Vouchers which have expired or have been cancelled by you will show up on the Voided tab.
Cancelling an Payment Voucher (Brand Ambassador)
To cancel an issued Payment Voucher, Brand Ambassadors must complete the following steps on their Plexus Pay account; Customer Service can only guide them through this process and are not able to cancel a code on their behalf.
To cancel an Payment Voucher:
Step
Action
1.
Login to your

Plexus Pay

account and go to Processing tab.
2.

Locate the correct transaction and click it. It will expand showing details of the Voucher.

3.

Click Cancel Transaction.

4.

The transaction will be removed from the Processing tab. Additionally, the amount will be taken out of your Balance on Hold and moved to your Total Balance.